FOCUSING ON STRATEGIC PARTNERSHIPS
(Excerpt from Inbound Logistics' Feature Story, "3PLs Coming to the Rescue" by Karen Kroll
As the contracts to manage two finished-goods Panasonic North America warehouses were coming up for renewal, management was also discussing a shift to a more strategic approach with its 3PL partners, says Joe Haury, vice president of global logistics with the Newark, New Jersey division of Panasonic Corporation.
"This would let us align the relationship with our priorities and goals, such as Lean deployment, using data to drive decisions and leveraging KPIs to track improvement," he says.
In spring 2019, Sunland Logistics Solutions, based in Simpsonville, South Carolina, was awarded the RFP to manage the warehouses. A key reason was Sunland's "open-mindedness and willingness to understand and respond to the voice of the customer," Haury says.
From the start, the two companies have employed a collaborative approach to addressing challenges. One was the tight time frame in which Sunland would have to assume operation of the warehouses—just five months, and that included moving the warehouse operations from Aurora, Illinois, to a new location.
Robust engagement with key stakeholders from both parties was critical. This included employees not just from logistics, but also from customer service, order fulfillment, and procurement. "All were available to talk through potential challenges," says Elijah Ray, chief customer officer with Sunland.
Detailed planning was similarly key. "Along with tools like block diagrams and process flows, we planned down to the detailed SKU and inventory quantities to be transferred to the new location," Ray says.
The hard work paid off. The handoffs occurred with minimal impact to Panasonic's supply chain or customers.
Once the new team was in place, the real successes in warehouse operation have come from deploying Lean tools to address challenges and continually improve operations. To start, Panasonic and Sunland jointly hosted several Kaizen events (Kaizen is a philosophy of continuous improvement).
For several days, employees from both Panasonic and Sunland focus on an area, starting by crafting a problem statement that all parties agree captures the challenge. From this, they work to identify the root cause.
A next step is "Go to the Gemba," or observe the process under review to understand it in action. Operational problems are best solved when the team goes to the floor to see what the real issues are, Ray says.
These ongoing efforts are helping to drive sustained improvement in warehouse operations. "You can't allow operations to become stagnant," Haury says. "Incremental small changes are a fundamental principle of Lean."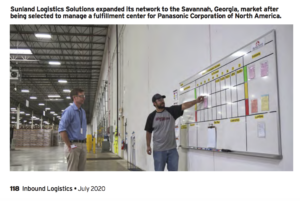 As Sunland continues to focus on continuous improvement, they challenge both themselves and Panasonic. "They've been highly engaged, from top leaders to analysts," Haury says. "With a key strategic relationship, we can rely on them to make us better."
Interested to find out if developing a 3PL partnership with Sunland could help improve your team's performance? If so, please contact [email protected] or call 864.688.0346.