It's hurricane season and as we have seen in the recent, devestating events in Louisiana, it's important we are "flood ready" and prepared in both our supply chains and at home. Through our partnership with Apex Environmental Management, Inc., Sunland has plans to ensure we are ready to lead with safety, support our customers, and protect our team members during natural disasters.
Here are some tips from the CDC on how to prepare your home for floods:
Be Flood Ready – H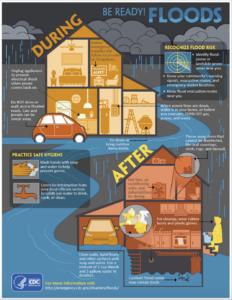 ow to Recognize Flood Risk:
Identify flood-prone or landslide-prone areas near you.
Know your community's warning signals, evacuation routes, and emergency shelter locations
Know flood evacuation routes near you
Be Flood Ready – During a Flood:
Unplug appliances to prevent electrical shock when power comes back on.
Do NOT drive or walk across flooded roads.
Tie down
or bring outdoor items inside
When power lines are down, water is in your home, or before you evacuate, TURN OFF gas, power, and water.
Be Flood Ready – After a Flood:
Throw away items that cannot be disinfected, like wall coverings, cloth, rugs, and drywall.
Use fans, air conditioning unites, and dehumidifiers for drying
Clean walls, hard floors, and other surfaces with soap and water. Use a mixture of 1 cup bleach and 5 gallons water to disinfect
For clean up, wear rubber boots and plastic gloves
Be Flood Ready – Practice Safe Hygiene:
Wash hands with soap and water to help prevent germs.
Listen for information from your local officials on how to safely use water to drink, cook, or clean.